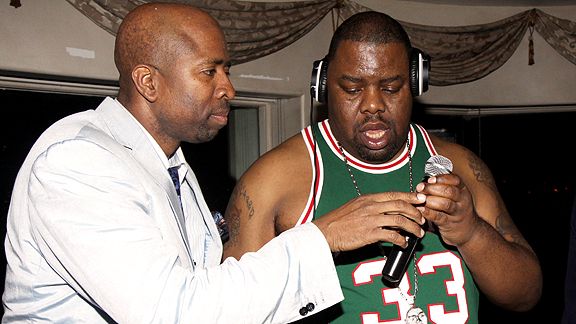 Johnny Nunez/WireImageKenny "TNT" Smith and Biz Markie are just two of the big names in Dallas for NBA All-Star Weekend.
Welcome to All-Star Weekend, when people spend hundreds of dollars to celebrate a game they have no intention of watching. The weekend is about parties, and heavy snow in Dallas might mean folks should get all the partying in they can, because the Apocalypse may be near.
With that said, Page 2 presents its guide to the parties of NBA All-Star Weekend:
The All-Star Celebrity Experience
When: Friday
Where: AM/PM Lounge
Who: LeBron James and Drake
What Page 2 Thinks: Here's how to recognize Drake -- he'll be the only person in Dallas complaining about the heat.
Welcome to Dallas Party
When: Friday
Where: Aloft Hotel
Who: "Terrell Owens and Friends"
What Page 2 Thinks: In one season of "The T.O. Show," T.O. hung out with three people, 67 percent of whom were annoying. Ixnay.
The Good Life All-Star Party and Concert
When: Friday
Where: House of Blues
Who: Rapper Doug E. Fresh, DJ Jazzy Jeff and saxophonist Mike Phillips
What Page 2 Thinks: For those who braved the elements to get to Dallas, only to feel a little arthritic in the crowds.