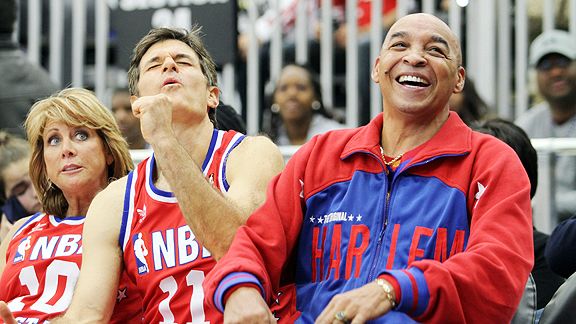 AP Photo/Tim SharpNancy Lieberman, Dr. Mehmet Oz and Curly Neal watch the NBA All-Star Celebrity Game.
No disrespect to Nate Robinson, but what has happened to the NBA Slam Dunk Contest?
Saturday's performance, in which the Knicks guard won his third title in a row, lacked the spontaneity and creativity of contests in the past.
What they need is 67-year-old Curly Neal.
"I know I could play in today's game," said Neal, who spent 22 years with the Harlem Globetrotters and was in Dallas for NBA All-Star Weekend. "We were pioneers of having fun. We created all of this."
Neal joined the goodwill ambassadors of basketball in 1963, after graduating from Johnson C. Smith University in Charlotte, N.C. He had five options to play pro basketball: the New York Knicks, Detroit Pistons, St. Louis Hawks, Baltimore Bullets and the Globetrotters.
"The Globetrotters ponied up the dollars the fastest," he said. "I wanted to play pro basketball, and I knew I could eventually make it to the NBA."
But with Neal's arrival, the Globetrotters became so popular -- with a world tour, animated cartoon and celebrity status -- that he didn't want to leave the exhibition team to jump to either the NBA or ABA.
The Globetrotters, formed in 1923, now have played more than 20,000 exhibitions and just began their 2010 world tour.
"People thought we weren't serious about basketball," said Neal, who retired in 1985 and later became a spokesman for the team, "but we could beat teams in the NBA, and we could do it any time we wanted."
The NBA needs more Curly Neals.