Everyone wants to know what Tiger Woods will say in his first public appearance since his fateful November auto accident.
Fear not, Page 2's dubious network of sources has tracked down a rough draft of his prepared statement. Take a look:
---
"Thank you all for joining me here today. I will keep this brief, and due to the personal nature of this subject, I will not take questions.
"Late on Thanksgiving night, there was an incident at my home between me and my wonderful wife, Elin. I should not have been out at such an hour, but I didn't realize how late it was due to the fact that, for some reason, I was not wearing my Tag Heuer professional golf watch with its patented ergonomic design.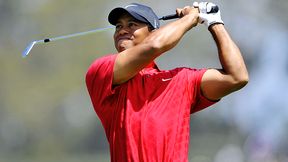 Matthew Mallett/Icon SMI
Contrary to erroneous reports however, I was drinking nothing stronger than Gatorade Tiger Focus Cool Fusion with its refreshing citrus blend. I'm just glad that I was driving my Buick Enclave with remote keyless entry and remote vehicle start with On-Star navigation, or my injuries could have been more serious.
"The incident and resulting publicity allowed me to see myself and all my faults with the same 20-15 clarity I've had since undergoing Lasik eye surgery at a TLC Laser Eye Center. Unfortunately, I have made mistakes in my life -- mistakes for which I profoundly apologize to my fans, but which I will not specify. I can assure you, however, that I have devoted the months since then to becoming a better husband and father, taking full stock in my life, just as everyone may also do through Accenture, the global investment corporation that offers innovative and comprehensive financial guidance for life.
"Personal growth does not occur overnight and this hiatus from golf is not the end of mine. So even though I am announcing today my return to the tour beginning with The Masters, I will continue to pursue excellence in my life just as vigorously as in my sport.
"Thank you for your time. I will see you at Augusta , where hopefully you will see me on Sunday in my red Nike Dri-Fit shirt.