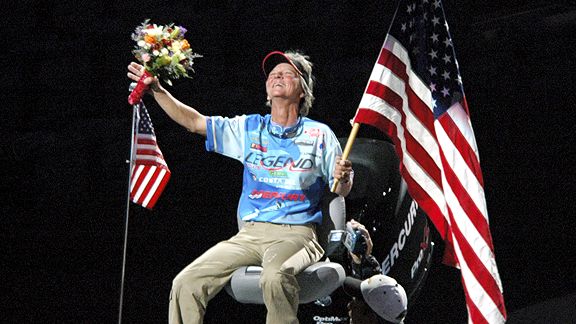 Courtesy of Bassmasters
Just after dawn Friday morning, 50 male pro anglers began trolling the chilly waters of Lay Lake, just outside Birmingham, Ala., to compete in the 2010 Bassmaster Classic.
And one woman -- Pam Martin-Wells.
Since turning pro two decades ago, Martin-Wells has won dozens of tournaments, been named Women's Professional Fishing and Angler of the Year three times, and racked up $294,427 in career winnings -- mostly on the short-lived, recently defunct women's pro tour.
And now she is the second woman ever to qualify for the "Super Bowl of Fishing" tournament, which boasts a record $1.2 million purse.
With thick, short hair bleached silver by the sun, Martin-Wells grew up fishing in Lake Seminole -- a vast reservoir that straddles the Georgia-Florida state line. She lives on the Georgia side with her husband, Steven Wells, and their two children. Page 2 talked with her right before the competition.
Are you the Danica Patrick of your sport?
"First time I heard that! That's all right. She's pretty good looking."
Any disadvantage to being a female on the water?
"Honestly, I don't see it. The fish don't know if there's a male or female on the other end of the line. Some people have said that women are more patient. But I'm pretty impatient. So I don't know about that."
So what would winning mean?
"Well, my expectations are to win every event I enter. Otherwise you might as well stay home and watch on TV."