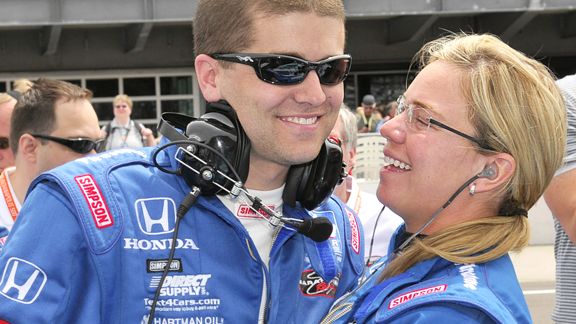 AP Photo/Seth RossmanSarah Fisher talks with her husband and now crew chief Andy O'Gara.
How did you meet your spouse?
"I ran him over with my car," IndyCar driver Sarah Fisher said.
What?
Fisher was driving for Dreyer & Reinbold in 2002, and mechanic Andy O'Gara was working for the race team as left front tire changer.
"I came into the stall during one race and hit him," said Fisher, who has been racing Indy cars for about 11 years. "He's the only guy I have ever hit that I fell in love with. Thank God I haven't hit others!"
That's a funny love story.
But Fisher is serious about racing.
She was the youngest woman to compete in the Indianapolis 500, doing so at the age of 19. She hasn't won a race out of about 70 starts, but she became the first woman to finish runner-up at Homestead-Miami Speedway and finished third at Kentucky Speedway.
And it's no surprise when people compare her to Danica Patrick, who is known for modeling and advertising as much as racing.
"Yes, my counterpart has more exposure. I can definitely respect her and I'm happy for her, but my focus is more on racing," Fisher said. "Some people want to capitalize on their looks. I just go to work."
In 2008, Fisher founded her own racing team, Sarah Fisher Racing, and now is preparing for the start of the 2010 IndyCar season, which begins in March.
"I'm the 'Girl Next Door.' I'm not branded anything more than that," she said. "I'm not the kind of person who would want to appear in the Sports Illustrated swimsuit issue. I'd want to appear on the cover of an entrepreneurial magazine."