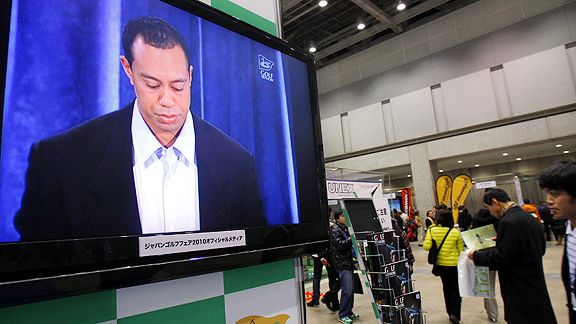 AP Photo/Koji SasaharaThe whole world seemed to be watching the Tiger Woods news conf… uh, public statement.
In case you missed it, the Sunday Brunch starts with a brief mention that Tiger Woods was on TV on Friday. But it must not have been all that important because they only had two cameras and one broke, plus there were hardly any reporters within a mile of the place.
Anyway, if you missed it, what Tiger said was that one of his personal obsessions is a terribly selfish activity and has been hurtful to his family and friends. But despite how awful it may be, he intends to keep playing golf.
Thank you, thank you, we'll be here all week.
Other tidbits to start your brunch:
• Quickly Pop Quiz: "Durant, Warren, Hayes, Collins and Beckman." Are they five obscure U.S. Presidents or the PGA Tour Mayakoba Classic leaderboard?
• Speaking of golf, did you notice that in the first round of the Accenture Match Play Championship top-seeded Steve Stricker was eliminated by Rose McGowan? You remember Rose. She played Cherry Darling in "Planet Terror" and had a machine gun replacing one of her legs. We feel bad for Stricker because a machine gun for a leg shouldn't be allowed in golf. … What? Oh, Ross McGowan. Never mind.
• Told the grand kids we were going to play an Olympic sport -- curling. Got the floor swept in 20 minutes.
And now the main courses in the Sunday Brunch: