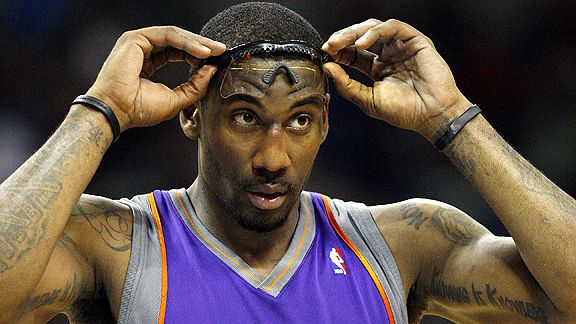 AP Photo/Patrick SemanskyDespite being the subject of trade rumors for years, Amar'e Stoudemire has shown class.
The NBA "sweepstakes" deadline has passed again, and the one player who -- for the third year in a row -- was supposed to move didn't. Amar'e Stoudemire is still in a PHX uniform. Shocked? Stunned? Surprised?
And for the third year in a row, what has he done in retaliation? Nothing. He hasn't once complained, sulked or acted out. In the past five games when his name was No. 1 on the "about-to-be-gone" list, he averaged 25.4 ppg and 10 rpg and did not once say anything bad about the people who, every year, treat him like foreclosed rental property.
You want a hero? Want an NBA superstar that you can believe in? Someone you can tell your kids to be like? Here he is. In this self-serving era when we seem to be in search of athletes who play the game "the way it is supposed to be played," we ought to apply that standard to how they play the game off the court and field as well.
This is the reason I have more respect for Stoudemire than for any other player in pro sports right now. And I shouldn't be alone in this. I know he doesn't fit the typical description of the athlete we all should hold in such high regard. But truth be told, who else is setting a great example of how to be a grown man when the people employing him are acting like children?