When I saw that Philadelphia University basketball coach Herb Magee became the winningest men's coach in NCAA history Tuesday night, I couldn't help but laugh.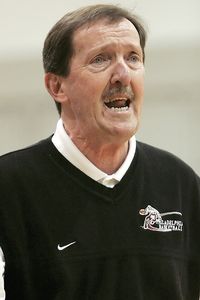 AP Photo/Tom MihalekHerb Magee just passed Bob Knight with 903 career wins.
Rewind to August 1993, at a basketball camp in the Pocono Mountains. I was preparing for my sophomore year in high school. That spring, my high school coach had been working with me after school on my shooting form. Up until then, I had a set shot, releasing the ball from waist-level. My coach was trying to turn me into more of a jump-shooter, with a higher release point.
I worked on my new form all summer long, launching hundreds of shots per day in my backyard. Only problem was, over the course of the summer, as I tried to replicate the new release point, I kept raising the ball higher and higher -- without realizing I was doing it. Suffice it to say, by August my jump shot looked as bad as Bill Cartwright's.
At that camp in the Poconos, Herb Magee was one of the guest instructors. One day, as he was giving a lecture on shooting, he picked five kids out of the crowd to come up and help him. He was going to have each one of us take a few shots, and then he would point out how we could improve our form.
When it was my turn, I grabbed a ball and proceeded to take a handful of jumpers, from various spots around the top of the key. Most of them went in, so I was feeling pretty good about myself. Then I turned to look at the crowd of campers -- many of them were giggling, including my own friends. I looked at Magee -- he was staring at me, with a quizzical look on his face.
"What position do you play, son?" Magee asked me.
"Shooting guard!" I eagerly replied.
"Are you kidding?" Magee said. "Who the heck taught you to shoot like that?"
I had never been so embarrassed in my entire life.
The story turns out well, though. Magee gave me some good pointers on how to fix my shot, and I ended up being the starting shooting guard on my high school team. Then I went to college in Philadelphia -- where I learned a lot more about Magee and what a legend he really is.
Congratulations, Coach.