Whether you want to buy or sell, need a new job or a new place to live, Page 2's Classifraud section is always the best place to start your search.
JEWELRY WANTED
Running back seeks Super Bowl ring to cap Hall of Fame career. Will settle for a trip to conference championship game. Or really, any paying job. Please contact LT@NotTheChargers.com.
POSSIBLE OPENING
We are a West Coast baseball team that may, or may not, need a new dreadlock-wearing, often-distracted power hitter who may, or may not, be leaving after the 2010 season. Apply in person to Joe T. at Camelback Ranch. Please bring aspirin.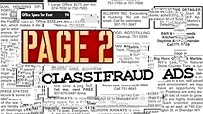 VIDEO CREW WANTED
Golf superstar, legendary for image control, needs two-camera crew for next public statement. Both cameras must work! Qualified candidates should contact "TW" at an undisclosed location.
WE NEED WOMEN
Olympic medal sport desperately seeks female teams to compete with the two-headed monster of U.S. and Canada. Otherwise, our sport is headed the way of Olympic softball. Contact: Women's Hockey, c/o Vancouver, B.C.
MASCOT WANTED
Major League Baseball team (sort of) has immediate opening for new mascot. Must be good with kids and old people. Please, no Zack Greinke wannabes. Call "The K" in KCMO, ASAP. (EOE)
LUXURY CLEVELAND LEASE
Condo, close to Quicken Loans Arena. Fully furnished, including custom-made bed for 7-footer. Short-term only! Back from Washington, D.C., in 30 days.
LEADER NEEDED
Storied college football program seeks coach to stop freefall. Michigan man preferred, not required. Promptness a must! Please call the Wolverine Alumni Association of Ann Arbor (WAAAA) for details.