"A good five minutes."
That's how long it took graphic designer and Phillies season-ticket holder John Blazek to create the highly amusing jaysonwerthbeards.tumblr.com, after Philadelphia right fielder Jayson Werth reported to spring training looking like a roadie for 38 Special.
"I was going to build a 'beard yourself,' face-in-the-hole type thing," Blazek says, "[but] my buddy sent me a picture of the Werth caveman, and I was like, 'Screw this; I'll just start a tumblr.'"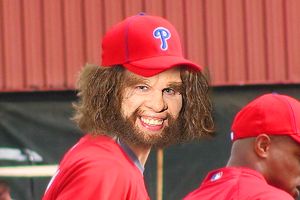 jaysonwerthbeards.tumblr.com
Indeed, it's that easy to take the Internet by storm these days, and in the vein of recent Web hits like the brilliantly psychedelic Selleck Waterfall Sandwich and Kanye West-inspired, Blazek-approved I'mma Let You Finish, a Werth-only tumblr photo blog was a no-brainer. Or, as Blazek put it, "How could this NOT be a good idea?"
Within the first 24 hours, the site received more than 70 user submissions, featuring Werth's fuzzy mug popping up on everyone from bearded icons such as Chuck Norris and Barry Gibb to less hairy folks such as Sam Worthington's Avatar and an even more frightening James Cameron icon -- Kate Winslet in "Titanic."
Although Werth hasn't commented about his upgrade from dinky, poetry-slam soul patch to full-on Mastodon gruff, Blazek has heard the fan-favorite outfielder is "a pretty solid dude," who might be inclined to check out the site someday.
As for what's next, Blazek tells fans to keep the pics coming, because the site will live on even if the beard doesn't. Unless, of course, Werth makes like the formerly bushy Johnny Damon and "shaves it because he has to join another team due to free agency."
Because if that team happens to reside in New York, you can bet Phillies fans won't be as kind with their Photoshop skills.