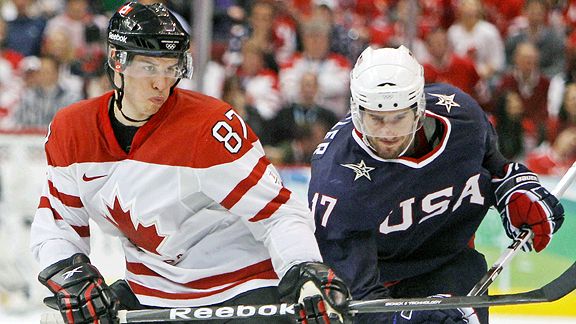 AP Photo/Gene J. PuskarWill the Olympic classic between the U.S. and Canada ignite interest in hockey? We'll see.
Late on Sunday afternoon, the same scene unfolded all across America. The nation looked on breathlessly as one of its own scored in the waning seconds, topping off a frantic sequence in which our fellow countrymen desperately fought to even the game. After Zach Parise broke free in the mad scramble to poke the puck home, an explosive wave of screams rolled across the country and, for a scant second, the spirit of the New Orleans Saints' recent Bourbon Street celebration spread from sea to shining sea.
It was a magnificent moment, both powerful and unexpected. In fact, the only thing more surprising than that last-second goal was that so many Americans were watching.
An astounding 27.6 million Americans watched the Olympic gold-medal hockey game between Canada and the United States, exceeding the number of people who have tuned into any NBA Finals contest since Michael Jordan retired in 1998, or any World Series game since the Red Sox made their magical run in 2004. Hockey-related items also dominated the trending topics on Twitter, with everyone shouting from the virtual rooftops about this incredible event.
With the NHL season back in gear, the question now is: Will this momentum carry forward? Or will hockey join curling, swimming and James Cameron as things we only care about every four years?
History suggests the buzz will die down quickly and the NHL won't experience a significant increase in interest as a result of the Olympics. But I'm here to make the case for hockey, and to encourage the mass of Americans who watched the gold-medal game to stick around for a little bit. Here are several arguments in support of the sport: