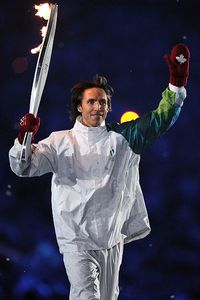 Jasper Juinen/Getty ImagesSteve Nash got to play a special role in Vancouver.
Steve Nash is leading the NBA in assists per game, for a team making a run at one of the top playoff seeds in the Western Conference -- but he is a lot more than just one of the NBA's preeminent players.
In the past few weeks alone, Nash lit the torch at the Winter Olympics in his native Canada, finished producing a documentary on the Terry Fox Marathon, won the Taco Bell Skills Challenge at the NBA's All-Star Weekend, made plans to attend and cover the World Cup in South Africa where he was born, and acted as a spokesman for VitaminWater.
Nash joined Bickley and MJ on XTRA 910 in Phoenix to talk about lighting the torch, watching the gold medal hockey game, filming the documentary, the direction of the Suns, and being the most ridiculous man in the world.
• Click here for a transcript of highlights from the interview