On Day 4 of Page 2's Lamest Sports Banners Contest, we pause to consider a hypothetical: What if the National Football League gave out Olympic-style medals instead of the Lombardi Trophy?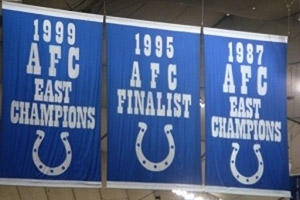 ESPN.com user dobyns
The answer might look something like the middle banner to the right.
Oops. Hold up. Our bad. Think it through, and the Indianapolis Colts' "1995 AFC FINALIST" flag actually falls short of Lindsey Vonn-in-the-super-G bronze-medal glory -- because to capture even a third-place trinket, the '95 AFC title game losers would have needed to triumph in some sort of bronze-medal, JV-level Super Bowl game against the NFC finalist. A game that's sure to take place as soon as the Puppy Bowl starts drawing Vegas action.
As it stands, the Colts are simply celebrating:
• Going 9-7 to earn the No. 5 seed in the AFC;
• Beating a 9-7 San Diego team and a Marty Schottenheimer-coached Kansas City squad in the playoffs, a pair of mighty deeds to rival setting the clock on your microwave correctly;
• Finishing the season as arguably no worse than the fourth-best team in the league, which is like putting up a banner for finishing in the top five of ESPN.com's final NFL Power Rankings.
As always, our race to the bottom continues. And we still need your help.
• Click here to see our gallery of lame banners.
• Click here to join our group and upload photos of your lame banner nominees.