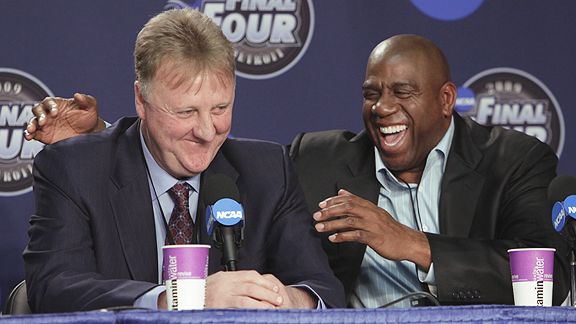 AP Photo/Paul SancyaLarry Bird and Magic Johnson delve into their fascinating relationship in a new HBO documentary.
The bond between Magic Johnson and Larry Bird has been analyzed for more than three decades. Yet HBO's new documentary "Magic & Bird: A Courtship of Rivals" doesn't come across as stale. Quite the contrary.
Sure, part of the allure is that watching two legends go up against each other never gets old. But the film also takes a fresh approach to the story, with the two men sitting down to reflect on their rivalry and friendship.
"Going through this process, it was about trying to capture what is the essence of this relationship," producer Ezra Edelman said.
There's something special about seeing both Johnson and Bird discuss the genuine emotion and connection each feels with the other. As Bird says of Johnson in the film, "I had to have him there … somebody to compare myself to."
"We wanted to focus on their relationship," said Ross Greenburg, president of HBO Sports and one of the film's executive producers. "They're intertwined as sports figures and icons. It's about how that relationship evolved over time."
A touch of humor also helps drive the film -- and most of those moments come not from the gregarious Johnson, but from Bird and his dry wit. The former Celtic delivers a number of deadpan one-liners, like when he sums up his decision to attend "a small school [Indiana State] that never played against anybody" with a matter-of-fact, "It's fine. I still dominated."
"There's a few moments where, no matter how many times I've seen it, I know I'm going to enjoy this part, and they all invariably involve Bird," Edelman said. "The way Bird opened up exceeded my expectations."
The film doesn't rewrite the history of the Magic-Bird rivalry, but it serves as an interesting new afterward.
The documentary premieres at 8 p.m. Saturday on HBO.