There are some 3,000 rules in Olympic ice skating. In ABC's upcoming "Thin Ice" competition, skaters have just one: Entertain us.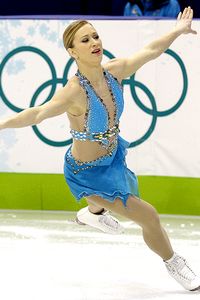 AP Photo/David J. PhillipJoannie Rochette will be making a special appearance on "Thin Ice."
A two-part special, "Thin Ice" will feature five pairs of elite skaters who have never before been coupled together. It will be an anything-goes type of competition. Expect to see things like backflips and skaters performing to artists such as Katy Perry.
Part 1 of the show also will feature Canadian bronze medalist Joannie Rochette skating a tribute to her mother.
Judges Kristi Yamaguchi, Katarina Witt and Dick Button -- all former Olympic gold medalists -- will account for half of each pair's score. Viewer votes will comprise the other half, drawing comparisons to other reality TV shows such as "Dancing with the Stars" and "American Idol."
As the Season 6 champion of "DWTS," Yamaguchi was asked whether she'd peg herself as any of that show's three judges. "Hopefully, I can come up with my own identity," she said. "On the first night, if you can say something constructive that maybe they can think about on the second night, that would be helpful. We are looking at an incredibly high level of skaters, so I dont think there will be anything too terrible to say to them."
However, if you're looking to typecast judges, look no further than Button to fill the Len Goodman/Simon Cowell role. "I certainly have every intention of commenting on what I think is right and what I think is wrong," Button said. "I think that's what the audience likes to hear. I'd like very much to be able to be perfectly honest with what we see is happening and in no way sugarcoat it."
"Thin Ice" airs on ABC on March 19 at 8 p.m. ET and March 21 at 7 p.m. ET.