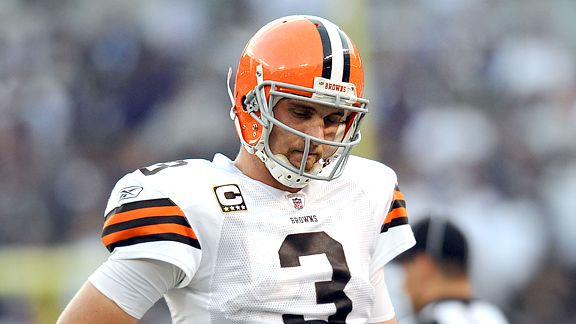 James Lang/US Presswire
Don't apologize, Derek Anderson.
Go with your gut. It's okay if you really feel that "the fans are ruthless and don't deserve a winner" in Cleveland.
Your 16-18 record (although unacceptable at just about any other franchise) gives you one of the best winning percentages of any Browns quarterback over the past few decades who started more than 30 games. So stick to your guns. Let Cleveland know how you really feel.
Remember the beginning of the 2008 season? You went 1-3 and Browns fans were calling for your head. You described it by saying, "Sure, it was rough. I was working hard, working long hours to get it right and for a while it was kind of like I was beating my head against the wall." Don't backpedal now.
Your own fans booed you as you lay on the ground with a season-ending knee injury two seasons ago against the Colts.
And don't tell me you've forgotten the ridiculous way Eric Mangini treated you at the beginning of last season making the starting quarterback a secret, then playing roulette with you and Quinn every few games.
Burn that bridge. What do you owe the Browns or their fans? There's no doubt you'll get a shot with another team, and if you want to earn the fans' respect there, you can start by retracting your retraction.