Carl Edwards avoided suspension for wrecking Brad Keselowski in spectacular fashion at Sunday's NASCAR Sprint Cup event in Atlanta. Sure, intentionally hurtling into someone would land a civilian in jail, but so would driving a car without doors in some jurisdictions. NASCAR is a different world.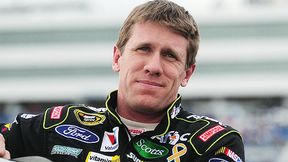 Mark J. Rebilas/US Presswire
NASCAR's decision to let Edwards off with three weeks of probation seems to be motivated by its attitude that drivers should be allowed to mix it up a little more, thereby giving fans more excitement. So, have other sports unfairly punished players when they should have commended them for inspiring fans?
Page 2 looks at how NASCAR's approach would have worked in other sports.
MLB: Robin Ventura, suspended six games for charging Nolan Ryan in 1993
NASCAR: A letter of thanks for providing fans the joy of watching a whippersnapper catch the business end of old-man strength.
NBA: Carmelo Anthony, suspended 15 games for punching Mardy Collins in 2006
NASCAR: Suspended 50 games. The fans paid for a show, not a track meet.
NFL: Steve Smith, suspended two games for sucker-punching a teammate in practice in 2008
NASCAR: Suspended four games. Save the good stuff for the games!
NBA: Ron Artest, suspended 73 games for going into the stands in 2004
NASCAR: 73 games. Edwards crashed another driver, but he didn't drive into the grandstands.
NBA: Ben Wallace, suspended six games for starting the whole mess with Artest
NASCAR: A bonus. Wouldn't have gotten such great TV without him.
MLB: Juan Marichal, suspended six games for beating John Roseboro with a bat in 1965
NASCAR: Nothing. Roseboro should have worn a helmet and HANS device.