Fatima Robinson grew up in Los Angeles, but she was born in Little Rock, Ark. Her low voice still carries a gentle hint of Southern drawl. She speaks more forcefully, though, in body language -- hers and everyone else's. An award-winning choreographer, Robinson has designed dance productions for the Academy Awards and the Victoria's Secret Fashion Show. She has choreographed music videos for artists such as Michael Jackson, Prince, Mary J. Blige, Gwen Stefani and Dr. Dre.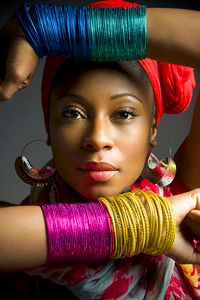 Courtesy of Pinnacle PR
Now Robinson is working on thin ice. Literally. "Thin Ice," a live, two-night figure skating competition airing March 19 and 21 on ABC, has Robinson paired with figure skaters Marie-France Dubreuil and Michael Weiss.
Page 2 asked Robinson, whose big eyes and high cheekbones give her a striking resemblance to Josephine Baker, what it's like to work with champion figure skaters. She said it is like working with pro wrestlers. Seriously.
"I worked with The Rock," Robinson said. "I choreographed him. Wrestlers, they understand timing and choreography. They're definitely very athletic."
On "Thin Ice," Robinson's challenge is that she and the skaters don't share a visual vocabulary. The triple Salchow, for instance, isn't a move you see in a nightclub.
In addition to having in an ice choreographer to help translate from dance floor to skate rink, Robinson sometimes has to demonstrate.
"That's where I have to try and mimic what I want, what's in my head," she said. "But the skaters are so good at what they do, they can give me examples of things and we can get it together.
"To be able to translate what I do to ice skaters, I love it. I love taking different journeys with my choreography. Working with ice skaters was never something I thought I'd be doing, but I'm psyched."
Judging by all the attention this show is getting, so is every other figure-skating fan on earth.