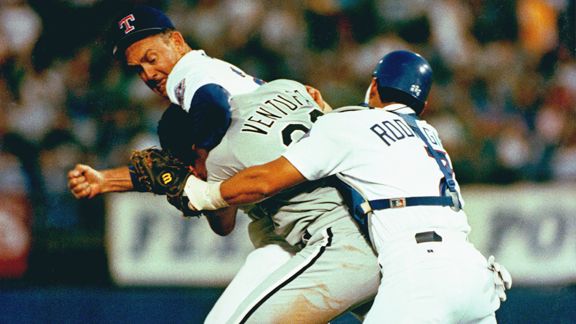 AP PhotoRemember the legendary manhandling of Robin Ventura by Nolan Ryan? A baseball code was involved.
When Phillies shortstop Jimmy Rollins was a rookie in 2001, he hit a home run off Cardinals reliever Steve Kline and celebrated by flipping his bat -- a gesture that sent Kline into a rage, screaming at Rollins as he rounded the bases.
"I called him every name in the book," Kline said. "That's [bleeping] Little League [bleep]. If you're going to flip the bat, I'm going to flip your helmet next time. You're a rookie, you respect the game for a while. There's a code. He should know better than that."
Even if Kline's reaction seems childish, it's telling how the situation was resolved. According to "The Baseball Codes: Beanballs, Sign Stealing, and Bench-Clearing Brawls: The Unwritten Rules of America's Pastime" -- a new release by freelance sportswriter Jason Turbow -- Kline's anger was assuaged when on-deck hitter Scott Rolen, then the Phillies' third baseman, told Kline that the "Phillies would take care of it internally."