If he wasn't focusing on the NCAA tournament, you would have to wonder whether University of Kentucky coach John Calipari would be flying to New York on Monday to watch ABBA's induction into the Rock and Roll Hall of Fame.
Yep, ABBA.
"I don't know why, but I love them," Calipari said Monday morning.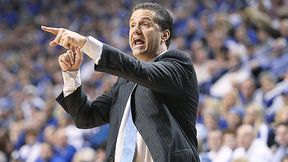 Andy Lyons/Getty Images
ABBA (the four-member Swedish hit machine with catchy songs such as "Dancing Queen" and "Knowing Me Knowing You"), Genesis and The Hollies are among the groups being inducted this year.
Calipari took time out of preparing his team for its first-round game Thursday to talk music, and he helped set up and break down Page 2's music bracket from music in his era of the late '70s to early '80s.
The left side of the bracket had Journey defeating Styx, and Fleetwood Mac defeating Lynyrd Skynyrd. The right side of the bracket had Kiss beating Alice Cooper and ABBA topping Black Sabbath.
Then Journey beat Fleetwood Mac and ABBA beat Kiss in the semifinals.
"In the championship game, it'll go overtime," Calipari said, "and ABBA would hit a half-court shot at the last second to beat Journey by one point."
What a great ending, John.
You'd think that Calipari would be more stressed this week as he tries to win a championship in his first year at Kentucky.
"I'm having a great time. Come on. If you're nuts about basketball, take a vacation this week," said Calipari, who called promoting the Mega March Madness on DIRECTV, which allows people to watch games outside their region. "Sit at home, crack open a couple of beers, eat pizza and watch the madness unfold. Remember, anyone can advance."
And what about those diehard UK fans who want to see a championship?
"Look, what's the worst thing that can happen to me? Get fired? I've been fired before," said Calipari, who previously coached at Memphis, Massachusetts and the NBA. "I know people here in Kentucky want to win national titles. I'm not immune to that. They want it all. I just want us to be in the conversation for the championship."