Bob Hurley, a 62-year-old retired probation officer and father of former Duke star Bobby Hurley, has been on a mission for more than 30 years to save troubled kids in Jersey City, N.J., and the surrounding area via basketball. A coach who has churned out more college hoops stars than Sonny Vaccaro, Hurley is quite possibly the only man bound for sainthood whose mouth would make even the toughest nun blush. He does it in a way that makes Bob Knight seem soft -- but his results are absolutely remarkable. Since starting at St. Anthony's High School, all but two of his players have gone on to college.
Hurley, St. Anthony's (a school that, thanks to the underprivileged population it serves, is always on the verge of bankruptcy) and the school's '07-08 basketball team are the subject of a new documentary, "The Street Stops Here," which will air on March 31 on PBS.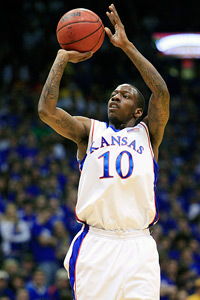 AP Photo/Orlin WagnerKansas' Tyshawn Taylor, a former player for Bob Hurley at St. Anthony's, is featured in the new documentary.
Hurley, who won his 25th state title on Thursday, said he was nervous at first about having cameras follow his every move. But to help his struggling school raise money, he agreed to it. "If it was good for the school, I was good for it," he said. "[I just had to be] a big boy and suck it up and put on a happy face."
It's that kind attitude that Hurley imparts to his players. Those featured in the documentary include Tyshawn Taylor, currently playing for Kansas, along with Rutgers' Mike Rosario and Pitt's Travon Woodall. In one scene, Hurley is shown telling them to get their "candy [expletives] moving" during one brutal conditioning drill. "If you don't love basketball," Taylor says on camera, "playing for Coach Hurley, you're not going to like it anymore."
As much as the kids fear Hurley, they also seek his approval and relish the chance to play for him -- traveling as long as an hour every day on the subway for the opportunity. "We play for the best high school coach ever," Taylor said. "Why miss out on that opportunity?"
After watching the documentary, the one scene Hurley said he regrets was a heated exchange during a game when Rosario received two technical fouls. After the ref called another foul that Hurley deemed questionable, he glanced over to see the other coach grinning. "While you're smiling at me," Hurley roared, "look at the scoreboard."
The camera then zoomed to show St. Anthony's winning by 31 -- but Hurley said bad sportsmanship is not the example he wants to set. "I kind of wish I had that moment back," Hurley told Page 2.
But it's Hurley's brutal honesty, to the kids and everyone around him, that makes the documentary worth watching.
"I knew we were going to have a great documentary when I sat down with him and said, 50 percent of the people are going to say, 'Gosh, this is just great, we need this kind of coach,' and 50 percent are going to say, 'I can't believe he yells and screams at kids like that,'" said producer Jay Sharman. "And he said, 'I don't give a blank what people think about me. I just care about my kids getting into college.'"