Do you read Esquire?
If you do, the Sunday Brunch does not understand you.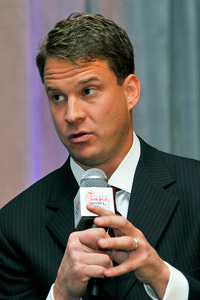 AP Photo/Gregory SmithCould Lane Kiffin actually face off against Helen Mirren?
Don't get us wrong.
We salute Esquire for having its own bracket elimination to determine "The Sexiest Woman Alive!" What we don't get is the taste of the folks who are voting at Esquire.com.
In the sports division, golfer Natalie Gulbis is the No. 1 seed and she's losing to the No. 16 -- roving football coach Lane Kiffin. Losing bad. With more than 100,000 votes counted, Ms. Kiffin has a 58-42 percentage lead.
Really?
And that's not the only 16 that's beating a 1. In the Hollywood division, No. 1 Megan Fox is getting trounced by No. 16 Helen Mirren. Granted, Mirren looks fine at age 63, but she's leading by a 62-38 percentage.
Seriously?
Will Kiffen face Mirren for the championship?
Of course Northern Iowa might take on Washington for the men's basketball championship so maybe those Esquire voters know what they're doing after all.
Now to the main courses in this serving of the Sunday Brunch: