His bracket's stars are not aligned.
Like many in America, Oscar D. Brock's NCAA tournament picks are limping into the Sweet 16 minus a limb after an upset-filled opening weekend. Unlike many fans, though, the New Orleans druid priest who tossed 24 ogham sticks for each game to make his selections last week in Jackson Square can blame his bulldozed bracket on too many surprise calls.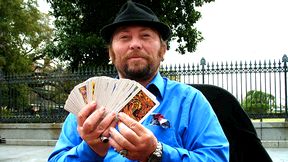 Andrew AstlefordIt's not likely in the cards for Oscar D. Brock's NCAA tournament picks.
Brock -- through the universe -- selected six of the Sweet 16 teams. Only his national champion, West Virginia, remains of his Final Four picks. His best predictions came in the lower half of the East Regional, where he called each first-round game correctly and advanced Washington and West Virginia to Syracuse. (His East Tennessee State-to-the-Elite-Eight thing did not exactly pan out. Thanks, Kentucky.)
Brock pinpointed Kansas' early exit, only the Jayhawks were supposed to become one of three top seeds to implode in the first round. His darling pick, Robert Morris -- which he advanced to the Final Four through the South Regional -- almost achieved the biggest first-round stunner, pushing No. 2 seed Villanova to overtime. (Sorry, no style points in March.)
Insiders say a quality reading from a New Orleans fortune teller ranges from $40 to $60. Perhaps save your money for next year's office pool.