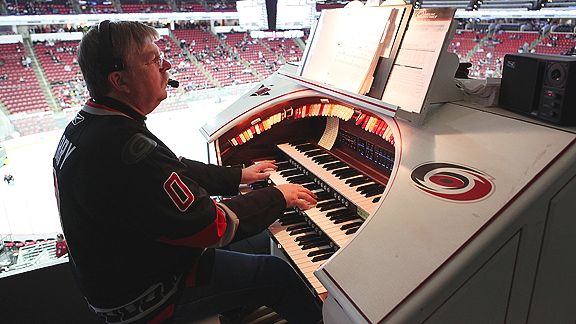 Gregg Forwerck/NHLI/Getty ImagesHockey and organ music go hand in hand. But what about Springsteen and Bon Jovi?
Slowly, during the silent, slushy beginnings of the NHL nine decades ago, music danced its way into hockey's DNA and venues to organically fill the gaps of hush.
In 1929, as the fledgling NHL was snowplowing on double runners through its first decade, the 3,663-pipe Barton organ was installed at Chicago Stadium, thus setting the tone for a noteworthy century of musical accompaniment at NHL arenas.
The organists were the DJs. They picked the tunes, sensed the moment and played like conductors. At times, they just played; at other times, they let the crowd do its thing. There was an intuitiveness to the organist and the crowd that is largely lost today outside of the "Crosby Sucks" chant that is slowly making its way to every NHL arena save one in western Pennsylvania. In today's arenas, fans wait to be told what to do and spend more time looking up at the JumboTron than looking down at the ice to take their cues. The organ is now more nostalgia than living organism.
Eighty-one years later, few keyboards remain in less intimate NHL rinks, and you can forget about enjoying the silence. Every gap or space is filled with loud music, blaring promos or sponsored elements. For the love of God Shammgod, the Flyers and I'm sure others, have a sponsor for home power plays!
This doesn't have to be the case. After a mad flurry of chances by the home team and a whistle when the road goalie freezes the puck, don't play anything. Let the crowd be the chorus. And can we please simmer down the JumboTron shots of the portly 12-year-old dancing to AC/DC and then stuffing hot dogs in his face? It elicits standing ovations, which elicit positive, pork-induced reinforcement to the 12-year-old, which eventually will lead to heart disease in 2052. You want to lower your kid's (and, in the future, the nation's) health care costs? Give him a piece of fruit once in a while!