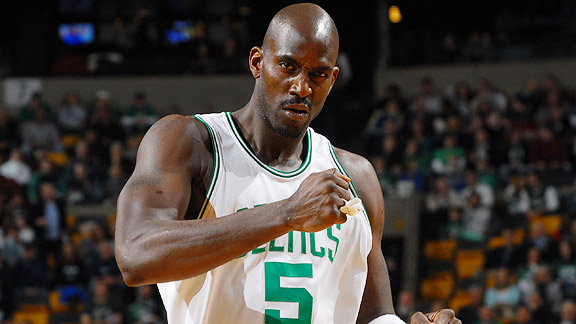 Brian Babineau/NBAE/Getty Images
Last week, while one Vanderbilt grad was clapping and yelling, "DE-FENSE, DE-FENSE," with the familiar cadence of NBA and college arena crowds, his Vandy buddy -- also middle-aged, in a shirt and tie, and scared to death of Murray State -- shouted in a Kid Cudi drone, "The defense is the backbone." His crew cracked up. He was imitating Kevin Garnett in one of the NBA's new commercials that is a part of its "Where Amazing Happens" campaign. You know something has gone viral when middle-aged dads have turned it into one of their crew jokes.
This particular commercial -- "Where Defense Happens" -- is an audio mash-up of everyone from KG to Magic coach Stan Van Gundy to Chris "Birdman" Andersen, all syncopated over a souped-up "DE-FENSE" beat, courtesy of DJ Steve Porter. You almost could call it a rap song. It's one of four. "Where Clutch Happens" features some of the NBA's best closers -- Kobe Bryant, Carmelo Anthony, Dwyane Wade, Chauncey Billups -- autotuned over a more electronic/techno'ish track. LeBron James and the Cavs' huddle are chopped up for "Where Determination Happens," and "Where Stepping Up Happens" just started airing a few weeks ago. Everything is on rhythm in these commercials, from the audio to footage of players clapping or bangin' on an opponent.
Almost every iteration of the "Where Amazing Happens" campaign has resonated with fans. The first spots -- slow motion, dramatic, backed by haunting piano chords -- that began at the start of the 2008-09 season were YouTube'd and linked with quickness. Then, last spring, the league and Kanye West hooked up to use Ye's song "Amazing" as the soundtrack for playoff highlights. Now, the league has tapped Porter to take random, tired, archived audio of hackneyed NBA athlete-speak to fashion something creative and cutting edge.
Danny Meiseles, the NBA's senior vice president and executive producer of production, programming and broadcasting -- who describes the game's nature as musical, specifically jazz -- intimated that the NBA is always trying to stay out front in the marketing vanguard. And it does. Can you imagine, for instance, MLB coming up with this campaign? Porter, a self-proclaimed Boston sports fanatic, can't.
"I've always been highly influenced by the NBA's marketing campaigns," he said. "I always felt they were the most standout and cutting edge."