John Calipari has an app for the iPhone and iPod Touch, and it became the top-selling paid sports app within a week of its release.
This got us wondering about which other coaches could make some scratch with their own apps. One of the apps below actually exists. See if you can guess which one.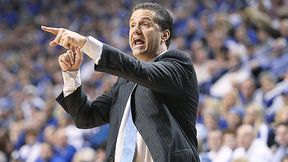 Andy Lyons/Getty Images
Frank Martin: When users pocket dial someone, the app shouts down the user until the keyguard is activated.
Roy Williams: Users enter the style of their shirts and jackets, and the app identifies the ugliest ties imaginable for their outfits.
Wade Phillips: Gets Jerry Jones' opinion on every decision users make.
Mike Krzyzewski: Users receive personalized "coaching tips" to dodge street vendors, dragons, pandas and Cameron Crazies.
Bo Ryan: The app slows down incoming calls to ensure each statement takes a full 35 seconds.
Brad Childress: Vibrates when Brett Favre needs a refill on his lemonade.
Vinny Del Negro: No one knows what it does, but for some reason, users haven't gotten around to deleting it.
Answer: The Krzyzewski app is the real deal.