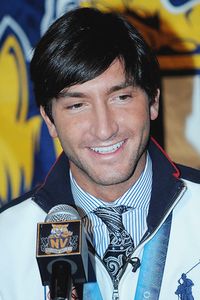 Dave Neesley Photography Evan Lysacek speaks to fans during "Evan Lysacek Day" at Neuqua Valley High School.
NAPERVILLE, Ill. -- On Thursday, Evan Lysacek was hiding under his hood from the paparazzi in Los Angeles, still wearing his slippers on his way for a cup of coffee.
"That wasn't something I anticipated," he said with an ever-present grin.
On Friday, a crowd of about 5,000 crammed into the Neuqua Valley High School gym to welcome him home to Naperville, give him the school's first-ever Distinguished Alumnus award and name a parkway in his honor.
He told students not to be afraid to dream, thanked his old teachers and administration for letting him be a halfway normal kid and promised all of them he'd be a Wildcat for life as they screamed his name and chanted "U-S-A, U-S-A."
"The adrenaline is still flowing," he said. And that was something he could not have anticipated.
He estimates that he gets approximately four hours of sleep. "Every two days," he clarified.
And he couldn't be happier.