Wednesday is the 2010 McDonald's All-American Game in Columbus, Ohio, at Value City Arena. The men's game begins at 8 p.m. and will air on ESPN, preceding a Warriors-Jazz NBA game.
There are currently 141 players in the NBA that were McDonald's All-Americans. Out of the entire NBA (424 players), 33.3 percent of the league consists of McDonald's All-Americans.
Every NBA team has at least two McDonald's All-Americans. The Cavaliers lead the league with 10. The Bobcats are next with 8. Three teams are tied for the fewest with 2 (Bulls, Nets, Hornets).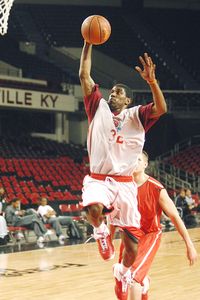 AP Photo/Henny Ray AbramsO.J. Mayo played in the McDonald's All-American Game in 2007. Just 1½ years later, he was in the NBA.
The men's McDonald's All-American Game began in 1977.
Current men's McDonald's All-Americans in the NBA the past five years
2008 (5): DeMar DeRozan, Raptors; Tyreke Evans, Kings; Jrue Holiday, 76ers; Brandon Jennings, Bucks; Byron Mullens, Thunder.
2007 (12): Jerryd Bayless, Blazers; Michael Beasley, Heat; Jonny Flynn, Wolves; Eric Gordon, Clippers; Donte Greene, Kings; Blake Griffin, Clippers; James Harden, Thunder; J.J. Hickson, Cavaliers; Kosta Koufos, Jazz; Kevin Love, Wolves; O.J. Mayo, Grizzlies; Derrick Rose, Bulls.
2006 (16): Darrell Arthur, Grizzlies; D.J. Augustin, Bobcats; Chase Budinger, Rockets; Mike Conley, Grizzlies; Daequan Cook, Heat; Javaris Crittenton, Wizards; Kevin Durant, Thunder; Wayne Ellington, Wolves; Spencer Hawes, Kings; Gerald Henderson, Bobcats; Ty Lawson, Nuggets; Brook Lopez, Nets; Robin Lopez, Suns; Greg Oden, Blazers; Brandan Wright, Warriors; Thaddeus Young, 76ers.
2005 (12): Jon Brockman, Kings; Andrew Bynum, Lakers; Mario Chalmers, Heat; Monta Ellis, Warriors; Danny Green, Cavaliers; Tyler Hansbrough, Pacers; Amir Johnson, Raptors; Josh McRoberts, Pacers; C.J. Miles, Jazz; Martell Webster, Blazers; Lou Williams, 76ers; Julian Wright, Hornets.
2004 (17): Arron Afflalo, Nuggets; LaMarcus Aldridge, Blazers; Corey Brewer, Wolves; Glen Davis, Celtics; Jordan Farmar, Lakers; Rudy Gay, Grizzlies; Daniel Gibson, Cavaliers; Malik Hairston, Spurs; Dwight Howard, Magic; Al Jefferson, Wolves; Shaun Livingston, Wizards; Rajon Rondo, Celtics; J.R. Smith, Nuggets; Josh Smith, Hawks; Sebastian Telfair, Cavaliers; D.J. White, Thunder; Marvin Williams, Hawks.