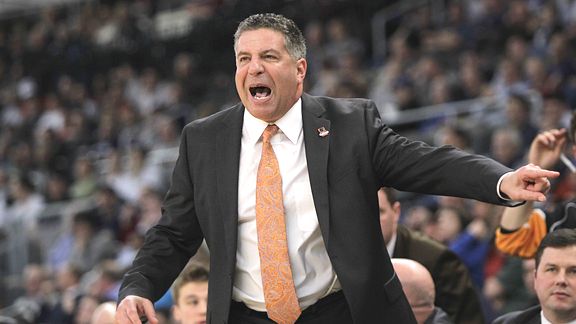 AP Photo/Elise AmendolaCoach Bruce Pearl still is a little stung by the loss to Michigan State and won't watch this weekend.
Bruce Pearl led his University of Tennessee team on a tremendous NCAA Tournament run and showed why he is one of the best coaches in the country. Led by Wayne Chism and J.P. Prince, the Volunteers got through every team that stood in their way en route to the Elite Eight. However, thanks to a key free throw by Michigan State's Raymar Morgan in the closing seconds, the Volunteers missed out on going to Indianapolis for the Final Four.
Pearl joined ESPN 1000 in Chicago to talk about whether he still feels the sting of the loss against Michigan State, what he thinks about reseeding in the tournament, and whether he will be watching the Final Four.
So now you watch what happens?
"No, no, I will not be watching it. I can't watch it; I won't watch it. You might have to sit there on the sidelines and watch it, but I will not be watching it. I might listen to it on ESPN 1000, but I will not be watching it."
What do you do instead?
"You drive back to Knoxville and you pout. I won't put myself through that situation."