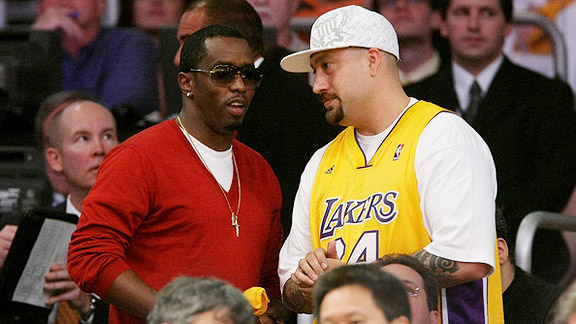 Noel Vasquez/Getty ImagesSean "P. Diddy" Combs chats with Cypress Hill's B-Real at a Los Angeles Lakers' game.
The Staples Center in downtown Los Angeles opened on Oct. 17, 1999.
Moving from the Forum, the Los Angeles Lakers started playing there and started winning championships.
One fan who has been there every step of the way is B-Real, lead singer of legendary hip-hop group Cypress Hill. He's been a season-ticket holder since Day 1.
"The players are like extended family to me," said B-Real, whose group has a new album called Rise Up coming out April 20. "Because I've been there so long, the idolization factor goes down."
B-Real, who considers Lakers' Derek Fisher and Lamar Odom among friends, still is awestruck when he see NBA Hall-of-Famers Magic Johnson or Kareem Abdul-Jabbar. "I turn into a 12-year-old kid again," said B-Real, who is 39.
For the past handful of years, B-Real (real name Louis Freeze) has been working on solo work and a few mix tapes. That has afforded him the opportunity to watch more basketball.
But soon with the release of the band's new CD, it might be hard to watch in person as the group travels on a promotional tour.
"Watching the Lakers is a guilty pleasure for me. I grew up watching the Lakers. There is no better feeling," said B-Real, who spends about $12,500 on tickets a season. "I know we can repeat."