A tree fell in the sports forest over the weekend. I'm assuming you missed it. Most of the rest of America did, too.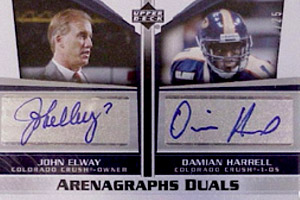 Upper DeckJohn Elway and Damian Harrell highlight a card.
Not me.
I heard it fall because I knew it was coming; heck, I was anxiously awaiting its arrival. The 2010 Arena Football League season kicked off Friday night.
Four more games followed suit on Saturday and you can bet there are at least a few other folks on the planet -- a precious, precious few -- who were beside-themselves giddy at the AFL's return after an almost 20-month hiatus.
Indeed, Easter weekend presented a long-overdue rebirth for the AFL following the cancellation of the 2009 season and eventual bankruptcy announcement last August.
Undaunted, new league commissioner Jerry Kurz spearheaded a group that purchased most of the original AFL's assets in December.
Less than four months later, a new 15-team AFL was born. That doesn't mean much to most folks, but to those who do care, it means an awful lot.