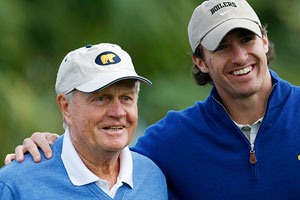 AP Photo/Alan DiazGolf legend Jack Nicklaus and Saints quarterback Drew Brees played a pro-am together.
New Orleans quarterback Drew Brees joined XX Sports Radio in his former stomping grounds of San Diego to talk about how hectic life's been since being the MVP of Saints' Super Bowl victory over Indianapolis, some of the unique opportunities he's had since then including what it was like playing golf with Jack Nicklaus, Dan Marino and Kenny G in a pro-am in March, and his thoughts on former teammate and good friend LaDainian Tomlinson's change of scenery this off-season.
Kenny G?
"Well, it was the Kenny G Gold Pro-Am that we were playing," Brees said. "And he's a scratch golfer, so I guess that's how he got in."