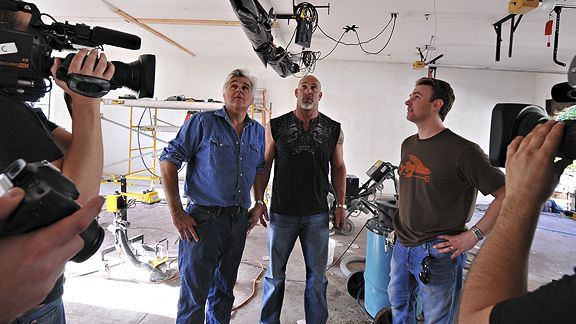 diy networksIn the season's first episode, Jay Leno talks about his garage with Bill Goldberg.
Bill Goldberg laughs, and jokes that you can, indeed, teach an old dog new tricks.
His good buddy San Diego Chargers linebacker Shawne Merriman pleaded with him to get on Twitter, he finally did, and was amazed at the tweets he was getting from fans. By and large? They would love to see him get back in the wrestling ring.
Goldberg is currently on NBC's "Celebrity Apprentice," and this week, he hosts a new season of DIY Network's "Garage Mahal," which premieres Friday at 9 p.m. ET/PT. Goldberg, a former NFL defensive tackle and a former wrestler for World Championship Wresting and World Wrestling Entertainment, talks about Donald Trump and his garage's most prized possession and addresses whether he will, in fact, go for another round in the ring.
How has being an athlete helped you so far on "Celebrity Apprentice"?
"We've got good connections. We're driven. We don't like to lose. And I think at the end of the day, probably the best asset is that we've all been a part of a team before. And we like working in a team setting. I like that much more so than being an individual at times. It's always good to have other people who you can lean on and pick you up when you're down and vice versa."
So what would you do to Donald Trump's garage?
"I don't think Donald Trump is the kind of guy who needs his garage done! I'm not too sure about just doing just any celebrity, you know? I don't think just because they're famous, they're worthy recipients. We did Leno's garage and obviously Leno's got money to do it himself. Leno's was more of an intervention. I think we're going to stay away from the big guys who's got the coin to do their own garages."