Add action star to Tampa Bay Rays third baseman Evan Longoria's growing list of accomplishments.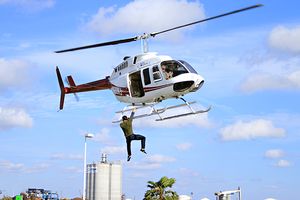 New EraEvan Longoria is multitalented, but he didn't do his own stunts for his new commercial.
The 2008 American League Rookie of the Year and 2009 Gold Glove winner stars in a New Era commercial that sends Longoria on a chase for his cap and includes stunts likened to Jason Bourne of "The Bourne Identity" and Jack Bauer in TV's "24."
"We just felt that from a face-of-the-brand perspective, he was right to appeal to our consumer base and also that he could carry a pretty big, action-packed story," said Gerry Matos, senior vice president of marketing for New Era. "I think it's fair to say that not every player would fit in that dynamic, and we just felt that we were looking for somebody who made sense in that role."
The spot, which debuted Sunday, was shot in the Channelside area of Tampa, Fla., when the Rays had an off day in the middle of spring training. Longoria is dining at an outdoor patio when he believes a fan has made off with his cap.
Longoria, 24, also is featured on the cover of the "MLB 2K10" video game and has been touted among the preseason favorites for AL MVP. He spoke by phone about the commercial, his rising status in baseball, the Rays' hopes to return to the World Series and other aspects of his off-the-field life.
Fun commercial, but my first question is, do you often go out in public wearing your Rays hat?
Longoria: (Laughs) Never. I think that would be a little bit of a hint for a lot of people.