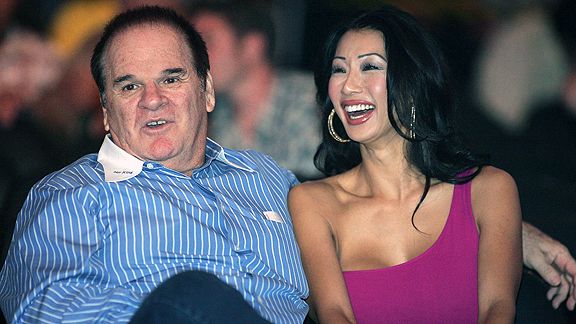 Donald Miralle/Bongarts/Getty Images
Now in year 21 of his lifetime ban from baseball, MLB's career hit leader Pete Rose joined KFAN in Minneapolis to talk about why he thinks players used to hang around the game a year or two longer than they perhaps should have, how he thinks Joe Mauer will go down as the best hitting catcher in MLB history, how he always played the game the same way even if it was an exhibition, and of course, his decision to bet on baseball when he was the manager of the Cincinnati Reds.
On if he thinks the steroids era has made his transgressions seem more palatable to the public:
"Well, you're probably right in the eyes of the people, but I don't think you're so right in the eyes of the commissioner. I'm just one guy, and regardless of what side you're on, or what you think of what I did, or how bad you think it was or whatever. It was wrong, no question about it. But I had nothing to do with altering the statistics of the game of baseball. As you know, as I can tell from hearing you talk, baseball's statistics are sacred. Now, to answer your question about steroids; wouldn't you like to ask Roger Maris how he feels about steroids? Or Babe Ruth how he feels about steroids? Or Hank Aaron, you could probably ask how he feels about steroids. Because those people all lost records because of people who supposedly took steroids. So that's a different deal right there. But I didn't alter any statistics of baseball. What did I do? I'll tell you exactly what I did. I bet on my team every night. I mean, my players were like my sons. I had so much confidence in them. I was wrong, but I didn't bet on them four nights a week, or five nights. I bet on them every night. Okay? That's the way I did it, and I was wrong, and I paid the price. But unlike me, it seems like most other guys, or a lot of other guys who do this or do that or do this, they've all gotten second chances. I would have been better off to be a drug addict or a spousal beater or an alcoholic. If I'd been one of those three, they probably would have paid for my rehab and I'd still be managing a baseball team. That's the sad thing about my case."
On what he'd say to those who are weary of trusting Rose at his word now due to him denying the allegations levied against him for so many years before finally coming clean:
"You have no idea what I would have said if I was called into baseball's office in 1991 or 1992. Because I was never given the opportunity. The first time I was able to have a meeting with the commissioner I spilled my guts. Okay? The first time. That's how long it took those guys to answer my mail or my phone calls."