As Mike Greenberg and Mike Golic travel the United States promoting their book "Mike & Mike's Rules for Sports and Life", Greenberg is thinking about his next book.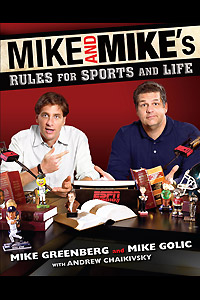 Courtesy of ESPN Books
"If they want us to do a follow-up, that's cool. I'm also thinking of writing my first novel," Greenberg said. "And that would also be the first novel Golic would read."
"If I'm reading a novel, it wouldn't be the one written by you," Golic said. "And I'm not doing another one. This one exhausted me. The thought of writing another book puts me in the fetal position."
That banter is what makes the relationship between Greenberg and Golic so special.
Greenberg, the self-admitted "metrosexual", and Golic, the self-admitted "dumb jock", have been together for 10 years hosting of the nation's most popular radio shows. In 2004, the radio show began broadcasting on ESPNews and then moved to ESPN2 in 2006.
"We are exactly like we are on the show," Greenberg said. "I'm the metrosexual and he's the former player who is all meat and potatoes. We use it for humor. He's starting to lose weight. He needs to stop that!"
Sunday, the duo travels to Winnetka, Ill., for the next book stop.
What actor would play you if the book was turned into a movie?
Golic: "Actor Jeff Garlin from 'Curb Your Enthusiasm'."
Greenberg: "Brad Pitt for me. Actually, Jon Stewart."
Golic: "I think Pee-Wee Herman should play Greenberg."
The banter never stops.
Mike & Mike's Book Tour Schedule
Date
City
Venue
Time
April 11
Winnetka, IL
Book Stall @ Chestnut Court, 811 Elm St
2 p.m. CT
April 12
Chicago, IL
Borders @ 150 North State St
12 p.m. CT
April 14
Westport, CT
Barnes & Noble @ 1076 Post Road East
7 p.m. ET
April 16
Dallas, TX
Legacy Books @ 7300 Dallas Parkway
9 a.m. CT*
April 20
Huntington, NY
Book Revue @ 313 New York Ave
5 p.m. ET
April 21
Boston, MA
Barnes & Noble @ 800 Boylston St
1 p.m. ET
April 24
South Bend, IN
Hammes Notre Dame Bookstore
9:30 a.m. ET**
April 27
West Hartford, CT
Barnes & Noble @ Blue Back Square
7 p.m. ET
April 28
Northvale, NJ
Books & Greetings @ 271 Livingston St
5 p.m. ET
May 6
Lyndhurst, OH
Joseph Beth @ 24519 Cedar Road
7 p.m. ET
May 20
Tampa, FL
Inkwood Books @ 216 S. Armenia Ave
6 p.m. ET
*Signing follows live remote broadcast at same location
**Mike Golic only