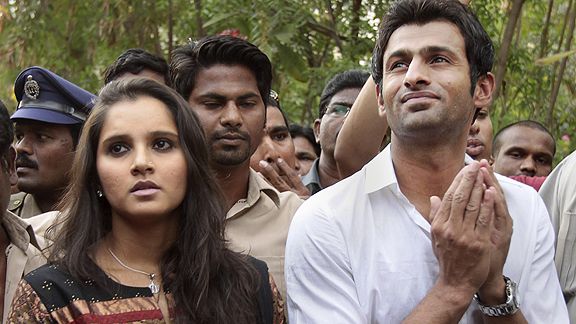 AP Photo/Mahesh Kumar A.Sania Mirza and Shoaib Malik held a news conference defending their engagement.
It's a tale that would make Tiger and TMZ blush.
A media monsoon has inundated the South Asian subcontinent ever since Indian tennis star Sania Mirza and former Pakistan cricket co-captain Shoaib Malik announced their upcoming nuptials a few weeks ago.
With 63 years of tension, three wars, nuclear power, religious extremism and Kashmir splitting the two countries apart, the marriage of Malik and Mirza was seen as a cross border love story.
But there's the other woman.
Ayesha Siddiqui was Malik's mystery wife. She had been since 2002. But Malik denied it.
When Siddiqui heard the statement, she became a woman scorned and filed police complaint accusing him of cruelty and harassment and even threatening to kill her if she went public. Malik's passport was seized. He was interrogated in Hyderbad.
Siddiqui told the Indian press that she and Malik shared an 'intimate' relationship. Siddiqui's family provided a signed marriage contract. She provided him with financial help when he was a struggling cricketer.
Malik and Mirza held an impromptu news conference to defend their engagement.
A few days later, Malik finally admitted to the union, but said he was duped over the phone into a mobile arranged marriage stating Siddiqui sent him pictures of another girl instead of herself. She claimed he dumped her because of her weight.
After pressure from community leaders and the threat of DNA testing involving stained wedding clothes, a hasty, clandestine agreement was reached and both parties finally signed divorce papers. Malik will reportedly pay 15,000 rupees (about $338) as a settlement. Other publications speculate it's actually more, maybe in the millions of dollars.
Now, wedding preparations are back on. About 500 people are expected to attend the ceremony at the Taj Krishna hotel on April 15 in Hyderabad, including Mirza's ex-fiance.