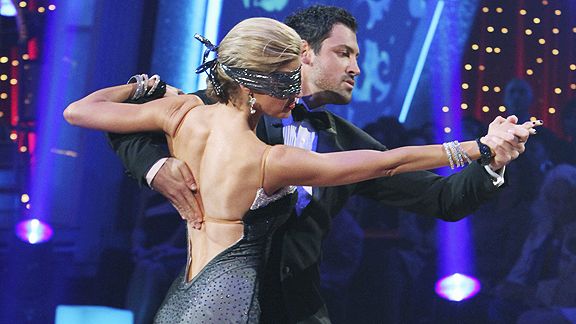 Disney/ABCErin Andrews and Maksim Chmerkovskiy performed last week.
Erin Andrews misses sports.
"I'm 'jonesing' for the sidelines again," said Andrews, an ESPN reporter competing in ABC's "Dancing with the Stars."
For those who don't know what that means, urbandictionary.com says "jonesing" means "craving." And that's exactly what Andrews is talking about.
"I have no idea what's going on in the sports world. I have nobody here to talk about it!" Andrews said. "I miss talking with coaches and other media and talking with the fans."
But Andrews isn't ready to give up on dancing. Monday, she and partner Maksim Chmerkovskiy will perform the tango as one of nine remaining couples.
For a Southern girl, it's been a big adjustment for Andrews to hang the past few weeks in always-on-the-go Los Angeles.
"This really isn't my scene. I'm always worried about falling when I leave restaurants and having paparazzi taking photos of me," Andrews said. "Everybody is worried about me. Even Pamela Anderson has been e-mailing me telling me how to handle the onslaught of media out here!"
"DWTS" host Tom Bergeron, who got Andrews interested in joining the show, knows exactly what she's talking about. He and his family live in Greenwich, Conn., and he heads to Los Angeles just for work.
Bergeron, who is guest starring in "Castle" on Monday right after "DWTS," wouldn't say how well he thought Andrews would do in the dance show.
"I could tell you who I think will win it all, but I won't," he said. "Why would I want to piss the rest of them off?