Although the famed open-roof stadium is now gone, football fans who have always wanted a piece of Dallas Cowboys history, a piece of Texas Stadium, still have their chance.
And there's no road trip to Dallas -- or dumpster-diving -- necessary. There's no need to get yourself dirty rummaging through rubble. All is needed is just the click of a mouse and a credit card.
You see, as with any noteworthy sports facility's demise these days there's always a market for the remnants of previously sacred ground, well at least what's not concrete and rebar. And that's where Steiner Sports comes in.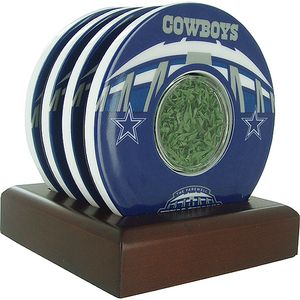 Steiner SportsCheck out a coaster made of Texas Stadium.
Steiner, a New Rochelle, N.Y.-based company, is an industry leader in the sports memorabilia world, and it has signed several deals to acquire the shirts off the backs of countless players for pro and college teams like the Cowboys, the Alabama Crimson Tide, the New York Yankees and, of course, the Boston Red Sox. Steiner also acquires the turf that the players walk on, too, among countless other things when a stadium gets imploded like we saw Sunday in Dallas.
Here's a brief rundown of my favorite Texas Stadium memorabilia pieces presently available from Steiner …
Dallas Cowboys Texas Stadium Turf Coasters, $39.99
We've all seen the beer cozies with logos slapped on them during tailgating time, but what about something a little more sophisticated for the fan watching at home? These coasters answer that need -- if your need was to have a piece of the actual artificial turf in the middle of your coaster. We all know that $40 is a bargain for an actual piece of artificial turf, right? But four? (Resisting temptation of making a Don West Shop At Home joke here … Wait, I just did.)