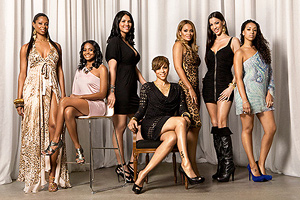 VH1The cast of "Basketball Wives" brings sports relationship drama right into our living rooms.
I'm sure in NBA locker rooms across the country there was a significant amount of chatter about Sunday's premiere of "Basketball Wives," a new VH1 reality show that takes us inside some of the NBA's most dysfunctional marriages and relationships.
If the first episode is any indication, NBA men are no match for their scorned women, who are draped in Gucci and Prada, driving Bentleys and Range Rovers, and using the platform of reality TV to eviscerate their exes, showcase themselves and, I guess, promote the theme of "sisterhood" by gossiping about each other, cursing each other out and throwing drinks on one another when all else fails.