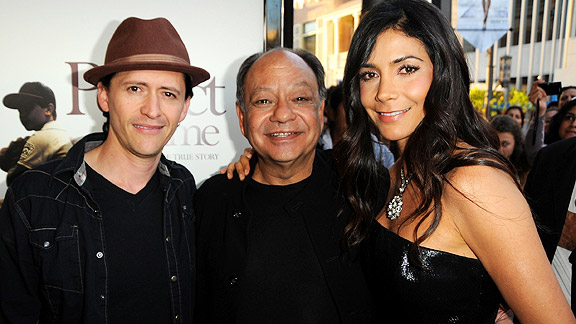 Jeff Kravitz/FilmMagicClifton Collins Jr., Cheech Marin and Patricia Manterola arrive to the premiere of "The Perfect Game."
For Cheech Marin, co-starring in "The Perfect Game" hit very close to home.
The movie, which opens Friday, is about relying on faith and overcoming obstacles to achieve dreams. Living amid the poverty of 1957 Monterrey, Mexico, a group of boys discovers the joy of sandlot baseball. The team then embarks on a record-breaking winning streak that leads it across the border to America and to the 1957 Little League World Series.
"I was exactly the age of these kids. I also played Little League at the same time," said Marin, 63, a Mexican American who was born in Los Angeles. "The story had a huge impact on me. I was following the exploits of that team when I was a kid."
Marin came to recognition in the 1970s as a member of the comedy team of Cheech & Chong, and then parlayed that into a successful movie and TV career.
In "The Perfect Game," Marin plays Father Estaban, the baseball-loving priest who nurtures the boys' belief in the power of faith.
"I would really like to see this movie find its audience," Marin said. "It's a true story and it's about overcoming seemingly impossible odds."