Former major league baseball pitcher Matthew Pender began 2002 smiling for flashbulbs in a Detroit Tigers jersey. A third-round pick in that year's draft, he still owns several Bowman Draft Pick cards memorializing himself.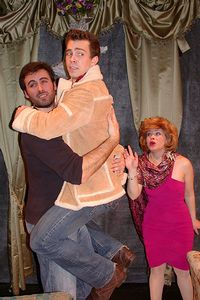 Matt Pender for ESPN.comMatt Pender found a different way to perform in the spotlight.
But after suffering a career-ending shoulder injury, he swapped minor league pitching mounds for the Manhattan skyline. Six years on, he's still posing for photos. He's again assumed the role of the leading man. Only this time, he plays Joey Edwards in "When Joey Married Bobby," a stage comedy at the Times Square Arts Center's Roy Arias Theatre.
Undrafted out of Houston County High School near Warner Robins, Ga., Pender landed at Middle Georgia College with little more than a 5:30 a.m., six-days-a-week resolve, an 85 mph fastball and a dorm waiver. His life became a sports movie training montage. He even remembers his lines. "My outlook was that no one could work as hard as I could. If I could do that, then I was going to succeed." Raising his fastball to 93 mph, he earned mid-40-round draft selections from the St. Louis Cardinals twice. Both invitations were declined. After transferring to nearby Kennesaw State, the budding ingénue received a nod from the Tigers' organization, which selected him in the third round of 2002.
Pender followed a fairy-tale ascent to the majors, pitching for the High A affiliate Lakeland Tigers, throwing a ball that topped out at 96 mph. In 2004, when the zip of his fastball dropped to 86 mph, it sounded like Freddy Krueger scraping his knives against the hallway wall. Acclaimed orthopedic surgeon Dr. James Andrews identified the culprit: tears in Pender's rotator cuff, biceps tendon and labrum.