We expect for all athletes -- especially the iconic all-time greats -- to call a news conference and give their careers some closure when they're done playing.
Barry Bonds doesn't care about closure.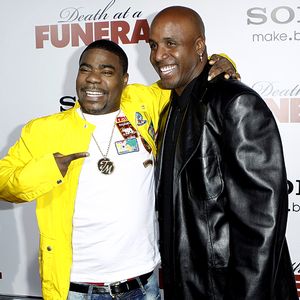 AP Photo/Matt SaylesBarry Bonds will ham it up with Tracy Morgan, but he won't slam the door on playing again in the majors.
Actually, more specifically, while at AT&T Park for a reunion of the 2000 NL West champion Giants, Bonds was asked about retirement, and he told reporters, "It's not necessary." He also didn't rule out playing again, saying "I don't know yet. I haven't trained that hard yet to answer that question. … I would have to work out a little harder to give you any formal consideration."
You might call that delusion or denial, and that may very well be the case. But I kind of feel for Bonds. He's an athlete who, for a variety of reasons, was forced to pack it in early. Athletes never deal with career endings well. On some levels, it's unfair. Athletes, unlike their fellow entertainers, can't prolong careers decades past their primes.
If I'm not mistaken, the halftime acts for the past six Super Bowls have been Paul McCartney, the Rolling Stones, Prince, Tom Petty, Bruce Springsteen and The Who. None of these acts' apex of relevance (their primes) occurred within the past 20 years. Recently, Meryl Streep, Alec Baldwin and Steve Martin starred in a romantic comedy. Only Baldwin is younger than 60 -- and he's 52. Siegfried & Roy called it quits last year just a few months shy of Siegfried's 70th birthday. That's cool because Wayne Newton, 68, is still carrying the geriatric torch on the Vegas Strip. Chuck D turns 50 in August, and Flavor Flav is 51, but Public Enemy still tours like it's 1989.
This isn't to gin up sympathy for Bonds, or athletes in general. You can sing, rap, act and even play with tigers on bad knees. It's a lot tougher to hit Roy Halladay. I'm just sayin' -- tell that to Bonds.