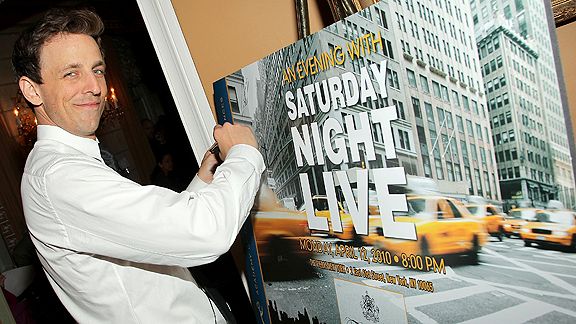 Mathew Imaging/WireImageSeth Meyers of "Saturday Night Live" will be hosting ESPN's annual sports award show, the ESPYs.
The 18th annual ESPYs will be hosted by "Saturday Night Live's" "Weekend Update" anchor Seth Meyers.
Meyers will be joined by an all-star lineup of top athletes and entertainers to celebrate the best sports stories of the past 12 months, leading fans through the year's best plays, biggest upsets and most outstanding performances across all sports. The 2010 ESPYs will be televised live July 14, at 9 p.m. ET on ESPN from the Nokia Theatre in Los Angeles.
"In the 'anything can happen' atmosphere that comes with doing a live program, there is no better host for The 2010 ESPYs then Seth Meyers," said Maura Mandt, executive producer for the 2010 ESPYs. "Not only is he one of the most brilliant comedians, his enthusiasm for sports is sure to create some of the most memorable moments in ESPYs history."
New to the show this year, fans will be able to vote on an ESPYs category during the show, and see the results of their vote live on the stage.
Meyers is best known for his work on Saturday Night Live, the show he's been on since 2001. Beginning in 2006, he has anchored the "Weekend Update" segment as well as serving as the head writer for the series. He is also the executive producer on the upcoming feature film adaptation of the SNL sketch, "MacGruber."
"If you asked anyone I played sports with as a kid," Meyers said, "they would tell you 'the only way Seth was making it to the ESPYs was as a host or presenter.'"