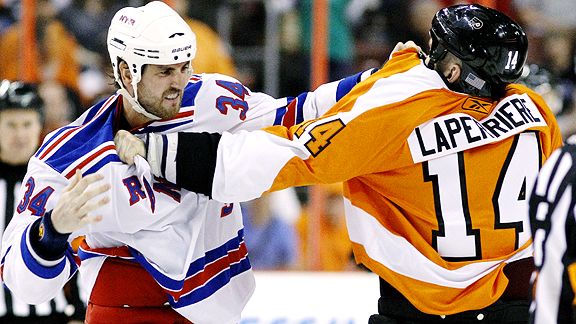 AP Photo/Matt SlocumRangers' Aaron Voros and Flyers' Ian Laperriere fight earlier in the week.
A fist fascination connects some of the NHL's most passionate fans.
For many years, hockeyfights.com webmaster David Singer was without a statistic that tracked the NHL's toughest athletes. Without much trouble, he could locate the league's leading goal scorer, an individual points leader -- even the top player in penalty minutes served.
But who delivered the ice's coldest clock?
What about a fights leader?
"It represents part of the game that generally represents heart and passion," Singer said. "The players who fight, a lot of them are the heart players on the team and the nicest guys off the ice. They give every ounce of strength and energy. The fans seem to represent that themselves. They are some of the most passionate, loyal fans of the game."
For more than a decade, Singer has tapped into hockey fans' passion with hockeyfights.com, a website that allows users to vote and comment on hockey fights. What started as a labor of Singer's love has matured into a vibrant community that receives more than 10 million page views in a month during the NHL season.
Singer's project is a product of his creativity. In 1995, he began studying fights that involved the New York Islanders. On his personal site, he posted findings within one paragraph that was updated regularly -- a practice that he called "a prehistoric form of blogging."
Soon, he started to track more teams. He expanded his efforts to scout fighters on the New York Rangers, New Jersey Devils and Buffalo Sabres. Features were expanded, and his audience grew.
By 1999, hockeyfights.com -- and a phenomenon -- launched.