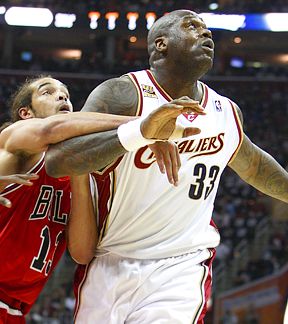 Gregory Shamus/Getty ImagesCleveland center Shaquille O'Neal, blocking out Joakim Noah, is still a difference maker.
Cleveland Cavaliers center Shaquille O'Neal joined Fox Sports Radio with Stephen A. Smith last Friday to talk about whether he thinks he is still a difference maker in the NBA, what team concerns the Cavs the most and whether LeBron James is the best player he has ever played with.
On whether he is willing to guarantee a championship:
"I would never guarantee it. Confident that if we do everything right, we're gonna be fine."
On how many more years he thinks he has to play before he retires:
"I think I've got two or three more years, but just gotta see how these chapters fall out."
• Click here for a full transcript of highlights from the interview