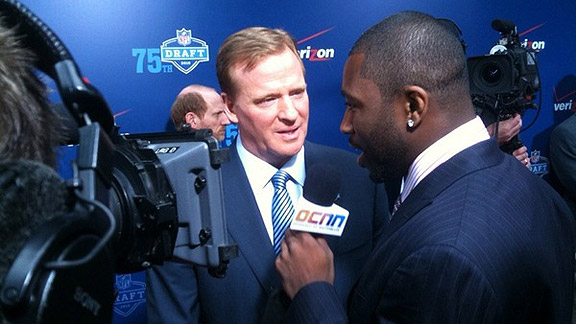 OCNNJets cornerback Darrelle Revis interviews NFL commish Roger Goodell at the NFL draft on Thursday.
NEW YORK -- Chad Ochocinco spent Thursday night practicing for ABC's "Dancing with the Stars" in Los Angeles and missed reporting for the Ochocinco News Network at the NFL draft.
So he sent his buddy and rival on the field, New York Jets cornerback Darrelle Revis, to give inside coverage of the draft, interviewing players and providing commentary for OCNN.
"I couldn't make it, so my homie is holding it down for me," Ochocinco said in the middle of practicing with partner Cheryl Burke. "Wait till you see the full Argentine tango routine, passion, romance and sensual all wrapped in one."
Revis jumped right into his duties, walking around the media room with his microphone and camera. He admitted that it wasn't so easy.
"Chad and I are really tight so, of course, I'm helping him out. This is a good opportunity for me to interact with players and the fans," Revis said. "I'm not sure I'll be able to ask the tough questions, though. It's not as easy as I thought. Hey, this isn't my primary job!"