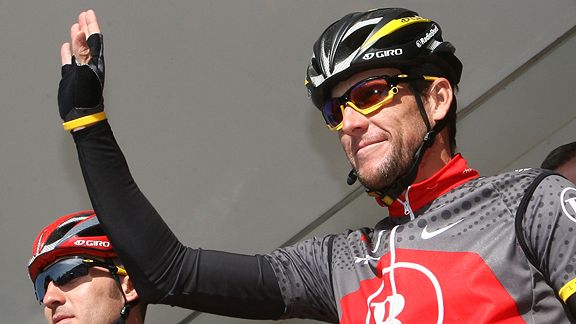 AP Photo/David VincentCyclist Lance Armstrong, according to a recent survey, is the most influential athlete.
Earlier this week it was reported that the most influential athlete in America is … Lance Armstrong. That's right, in a country where Peyton Manning is ubiquitous, a that country serves as LeBron James' HQ for his "global icon" mission, a country where Tim Tebow is a god to some -- a cyclist (albeit a cancer-surviving, seven-time Tour de France winning cyclist) is the most influential. This according to E-Poll Market Research, a research firm that, for the past 12 years, has measured over 5,000 celebrities on 46 attributes for their E-Score Celebrity (ESC) metric.
Joining Armstrong, whom 32 percent of Americans consider "influential," in the top 10 was LeBron James, Tim Tebow, Shaun White, Shaquille O'Neal, Peyton Manning, Kevin Garnett, Kobe Bryant, Apolo Anton Ohno and Dwyane Wade. Influential, said E-Poll CEO Gerry Philpott, could mean an athletes' impact on their sport to their ability to "influence" consumers to buy products they pitch. Noticeably absent from the top 10 down at No. 35, was last year's leader Tiger Woods, who's had a precipitous drop in several of the ESC categories after Thanksgiving, including likability.
Yeah, sports is about competition, but, as Method Man rhymed in "C.R.E.A.M.," "cash rules everything around me." Endorsement deals help athletes can go from to rich to filthy rich. And although potential sponsors -- hoping to invest wisely -- look at how athletes rate in attributes like "talent" and "physically fit" they also gobble up seemingly trivial information, like the fact that Americans consider Chad Ochocinco and Manny Ramirez among the most "kooky/wacky" athletes or that Michael Vick is considered, by far, the most "creepy" and Phil Mickelson and Kurt Warner are two of the five athletes most Americans feel they can "identify with." It all matters.
Along with "awareness," one of the biggy ESC metrics is "appeal." Perhaps to your surprise, currently, the top 10 most appealing athletes aren't your superstars, but rather Olympians, like Shawn Johnson (who leads all athletes with a 75 appeal-rating), Lyndsey Vonn and Shaun White. The average athlete appeal-rating is 49 percent. Tim Duncan, Drew Brees and Dwight Howard were the only athletes from the big three pro sports in the top 10.
Way down that list was, you guessed it, Tiger Woods at 23 percent.
Right below him? Yep, Terrell Owens.