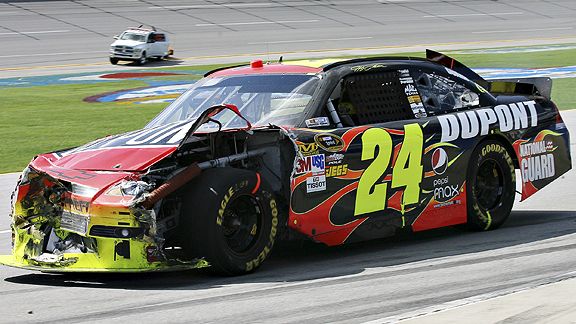 HHP Images
I may not be a NASCAR expert, but I know enough about to sports to assert that it's an individual sport. Enough to know that what Jimmie Johnson did to his Hendrick Motorsports "teammate" Jeff Gordon last Sunday at Talladega Superspeedway wasn't like, say, LeBron James hawking teammate Delonte West on a fast break and pinning his layup to the glass or Vikings guard Steve Hutchinson neck-tackling Adrian Peterson from behind for a two-yard loss or Usain Bolt knocking the baton out of Asafa Powell's hand in the 4x100 relay.
Gordon was miffed at what he thought was a block from Johnson that ended up getting Gordon caught in a multicar crash. "The 48 is testing my patience, I can tell you that," said Gordon.
Johnson would later explain that we was, in fact, trying to slide in front of Gordon so the two of them could draft to the front. Word? And then what? Let's say Johnson's successfully slid in front of Gordon and they drafted to the front. What do the "teammates" do then? Call dibs? Have a "'No, you go.' 'No, you go.' No, I insist, you go'" convo over the team's radio frequency?
Kevin Harvick ended up winning Talladega and none of his points went to Richard Childress Racing teammate Jeff Burton -- nor should they. Johnson, who won the last four championships and surpassed Gordon as Hendrick Motorsports marquee driver, has said that he and Gordon are "both greedy." What does that mean? That they both want to win each race? Duh. And winning the race means finishing in front of the other cars -- "teammates" included. Bump a guy, block a guy, slash a guy's tires if you have to.
NASCAR drivers aren't "teammates" -- they aren't even wingmen. Remember: Cal Naughton Jr. from "Talladega Nights" is a fictional character.