NBA Hall of Famer and now analyst Charles Barkley joined 790 the Ticket in Miami to talk about Dez Bryant being asked about his mother, how he's impressed by Bryant's ability to remain calm and composed and why he doesn't think it's acceptable to ask about somebody else's mother.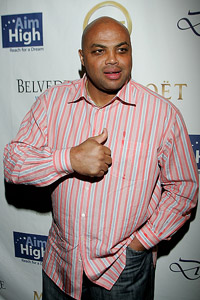 Gary Miller/FilmMagic/Getty ImagesCharles Barkley says you never can question a person's mother.
On the topic of Miami Dolphins General Manager Jeff Ireland asking Dez Bryant if his mother is a prostitute:
"I've got to go out and get me a Dez Bryant jersey. I'm serious. That kid, for him to hold his composure, he's my new favorite player. I'm serious. For him to hold his composure, if you were to ask that to somebody, I cannot believe he didn't get punched in the face. For him to keep his composure, that is very impressive to me."
On if he would have been able to keep his composure had he been asked that coming out of Auburn University:
"Where I grew up, you could say anything about anybody. You ask any black kid growing up, we talked about each other all the time. The fatal blow is your momma. Once somebody says your momma, it doesn't matter who it is, you've got to fight. I mean you've just got to fight, plain and simple."
• Click here for a full transcript of highlights from the interview